I have discovered my all time favorite way to prepare broccoli. It involves the oven, some olive oil, salt pepper and garlic. 15 minutes later the broccoli emerges roasted with crispy/salty edges and tender stems. ah. may. zing. I can't seem to get enough. Never, ever again will I steam or blanch my broccoli into a green mush. It's a crime against nature and I vow never again to participate in the mushifying (I know, not a word, but fun nonetheless) of a perfectly lovely and crisp vegetable. Those little trees were meant to stand tall and I just want to shake any person who serves me floppy broccoli. Instead, I beg you, roast your broccoli and you will wonder at how nuanced in flavor broccoli can be or how a bit of dark brown crispiness on the tops of the florets can be so satisfying. It's truly a vegetable revelation.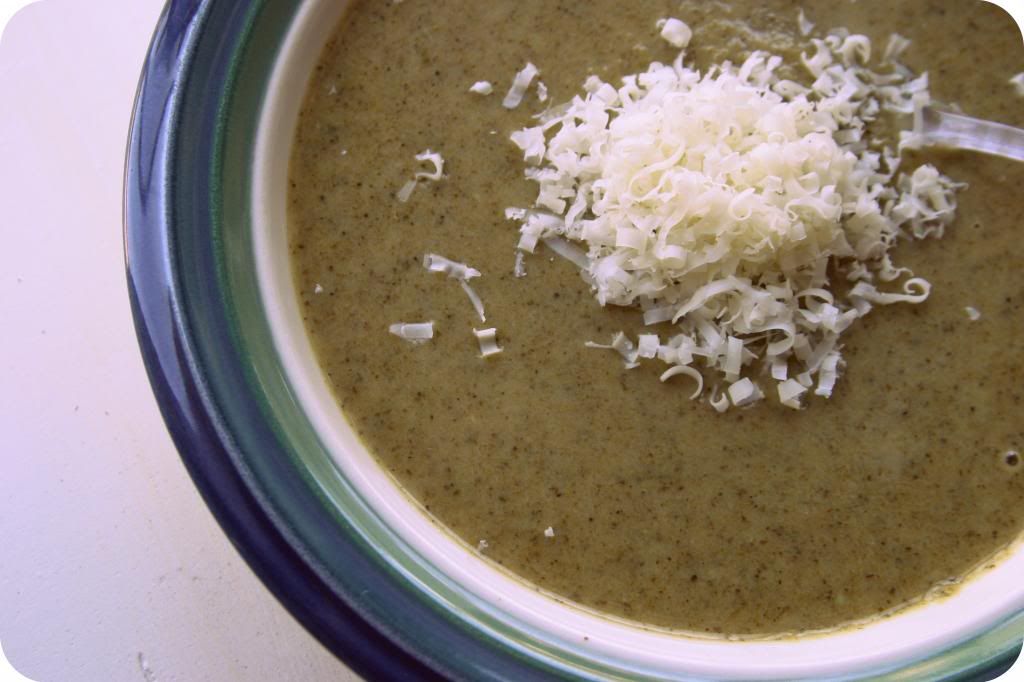 So then I guess it's a good thing that both my garden and my CSA farmers seem to growing broccoli at an amazing rate right now. It's like my broccoli dreams come true. I've got several big sturdy heads hanging out in the crisper drawer just begging to be roasted. If only I didn't have to hear the rumblings at dinner of "broccoli again?" my beloved roasted broccoli would be a daily staple. So okay, I needed a way to use up a big quantity of broccoli and what better way to do that than a soup? I did a quick
creamy broccoli soup
with potatoes last year about this time for just the same reason. Only this time I decided to treat the broccoli as I would sturdier soup fare like carrots or squash and roast it first. Just like that my favorite side dish has become a soup that has an enormous amount of depth and great broccoli flavor. And I, for one, am happily satisfied with the result.
Roasted Broccoli Soup
Serves 4.
For a printable recipe, click here.
This soup makes a wonderful lunch with a hunk of crusty bread. The broccoli flavor is intensified by the addition of a whole head of roasted garlic and a splash of lemon juice. I suggest topping it off with a pile of grated gruyere cheese- it takes the soup from the realm of really good to extraordinary in no time flat. By the way, if you just wanted to make the roasted broccoli you would simply add a bit of finely chopped garlic to the roasting pan when tossing the florets and follow the roasting directions.
2 large heads broccoli, separated into florets
1 head garlic
olive oil
1/2 medium onion, coarsely chopped
4 cups low sodium chicken broth (you could easily use water or vegetable broth to make it vegetarian)
1 tsp fresh thyme leaves
1-2 tbs lemon juice
salt and pepper to taste
grated gruyere, for topping soup
Preheat your oven to 425 degrees.
Peel the outer paper from the head of garlic. Slice the top off of the head, exposing the cloves of garlic. Place the head on a sheet of aluminum foil and drizzle it with about 2 tsp olive oil. Wrap the foil around the garlic to form a packet and place the packet in the oven to roast for 20 minutes
In the meantime, spread the broccoli florets on a baking sheet. Drizzle with olive oil and sprinkle with salt and pepper. Toss. Place the baking sheet into the oven at the end of the first 20 minutes of the garlic's baking time. Roast for 15 minutes, turning the broccoli over about halfway through the cooking time. Remove from the oven. The garlic should also be done at this time- look for it to be golden and the cloves soft.
In a dutch oven or large pot, heat 1 tbs olive oil over medium high heat When hot add the onions and turn the heat down to medium. Saute the onions until translucent, about 5 minutes, stirring often. Add the roasted broccoli, thyme and chicken stock and bring to a simmer. Simmer for 5 minutes or until the broccoli is very tender. Squeeze the roasted cloves of garlic from the head that you set aside earlier and add them to the pot of soup. Blend in batches or with an immersion blender until the soup is smooth. If you use a blender, be sure not to fill your vessel up more than halfway as hot soup expands when blended and could cause burns. Return the blended soup to the pot and add 1 tbs lemon juice. Taste for seasoning adding more salt, pepper or lemon juice as desired.
Ladle into soup bowls and served topped with grated gruyere cheese.