"A kiss is a lovely trick designed by nature to stop speech when words become superfluous.
"
-Ingrid Bergman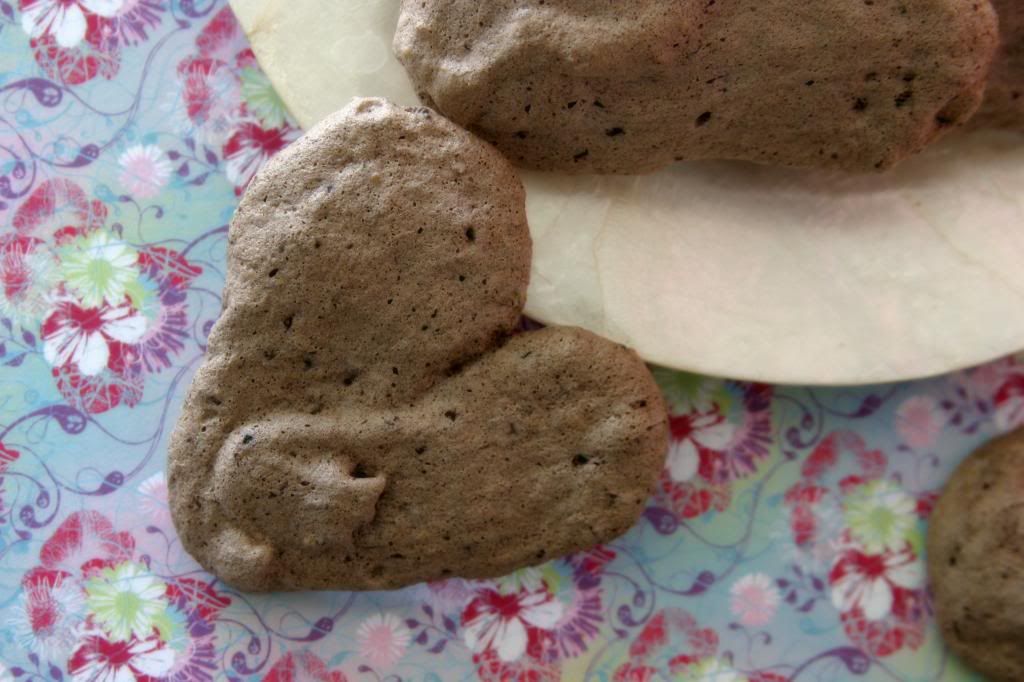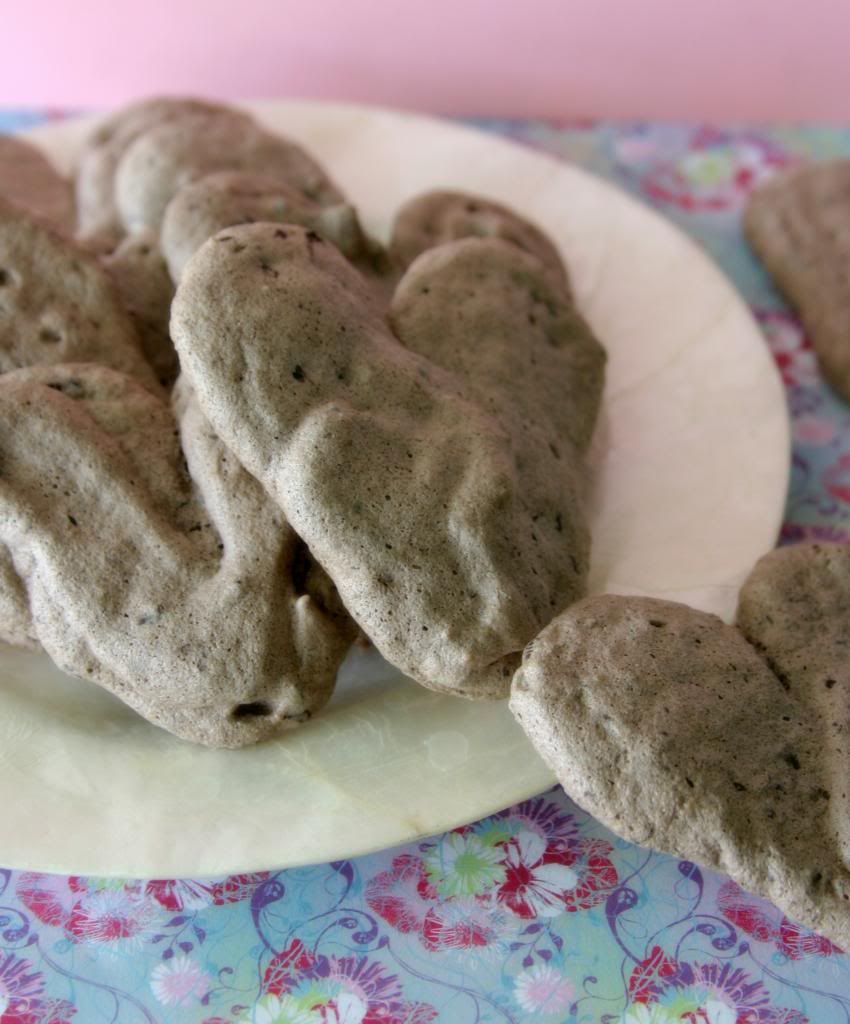 Triple Chocolate & Peanut Meringues
Makes about 12 3-inch hearts or 20 round cookies. Inspired by this recipe from Food and Wine.
For the printable recipe, click here.
My husband adores meringue cookies. They're not too sweet and the perfect size for one bite- just right in his opinion. His second favorite sweet is anything featuring the combination of chocolate and peanut butter. So I came up with this cookie as my valentine for him this year combining the best of both of his favorite treats. Feel free to try your favorite nut instead of the peanuts, I've done this cookie with hazelnuts and they are just as wonderful. I had a bit of fun piping these cookies into heart shapes with a pastry bag, but I actually like them better dolloped into a mound with a tablespoon. The round meringues bake up with a slightly gooey center that I quite enjoy while the flatter hearts are a bit more crispy. Both are wonderful, so decide which way your sweetheart would love them and start baking!
1/3 cup roasted unsalted peanuts
3/4 cup sugar, divided
2 tsp cocoa nibs
2 ounces bittersweet chocolate, very finely chopped
2 tsp cornstarch
3 large egg whites
1/8 tsp cream of tartar
2 tbs cocoa powder (I used Hershey's Special Dark which is a blend of natural and Dutch process cocoas, but I think a good quality natural or unsweetened cocoa would also work well)
1/2 tsp vanilla extract
Preheat your oven to 300 degrees and line 2 baking sheets with parchment paper or a silicone nonstick liner.
Using a food processor or a sharp, heavy knife, chop the peanuts very finely. If you use a food processor, I've found it is easier to get a fine chop if you add two tablespoons of the sugar to the processor with the nuts. That way you avoid turning the nuts into peanut butter.
In a small bowl, combine the cocoa nibs, chopped peanuts, chopped chocolate and cornstarch. Set aside.
Whip the egg whites and cream of tartar until soft peaks form (if you lift the beater, the peak of eggs whites will flop over). Continue beating while slowly streaming in the remaining sugar until the egg whites are stiff, glossy and hold firm peaks. Carefully fold the cocoa powder into the egg whites until barely incorporated. It's okay if some streaks of white remain. Then fold in the chocolate and peanut mixture you set aside earlier.
Using a pastry bag with a half inch hole or pastry tip, pipe the meringue mixture into hearts or 1 1/2 inch mounds on the prepared baking sheets. You can also use a spoon to shape the meringues if you don't have a pastry bag. Bake the hearts for about 20 minutes and the mounds for about 30 minutes. The cookies should no longer appear shiny and they will be firm when tapped. Remove from the oven and cool on the baking sheet completely before removing. The cookies will store in an airtight container for up to 1 week.