We've done enough traveling around Europe in the past 9 months that I feel like a seasoned tourist now. You learn quite a bit about how to be an efficient packer, how to find the best hotel deals and where to find the best food in town by visiting 6 counties in that short amount of time. A lot of the knowledge comes from each experience but here's my #1 little travel hint for you- ask the locals. I always carry guidebooks with me (the Rick Steves' ones are my favorites) after having done hours of research online before heading off to our destination. But none of that compares to the years of experience that someone who lives and works in a place can offer you. Even if that local is wearing a hat in the shape of a giant wheel of Gouda cheese and handing out samples of said delicious cheese in the town's market square. Trust me, he'll know the best tucked away place for a good meal that will cost you way less than anything you'll find in the touristy areas. Don't be fooled by his silly headgear and trust that he will lead you to the
best grilled cheese sandwich
ever.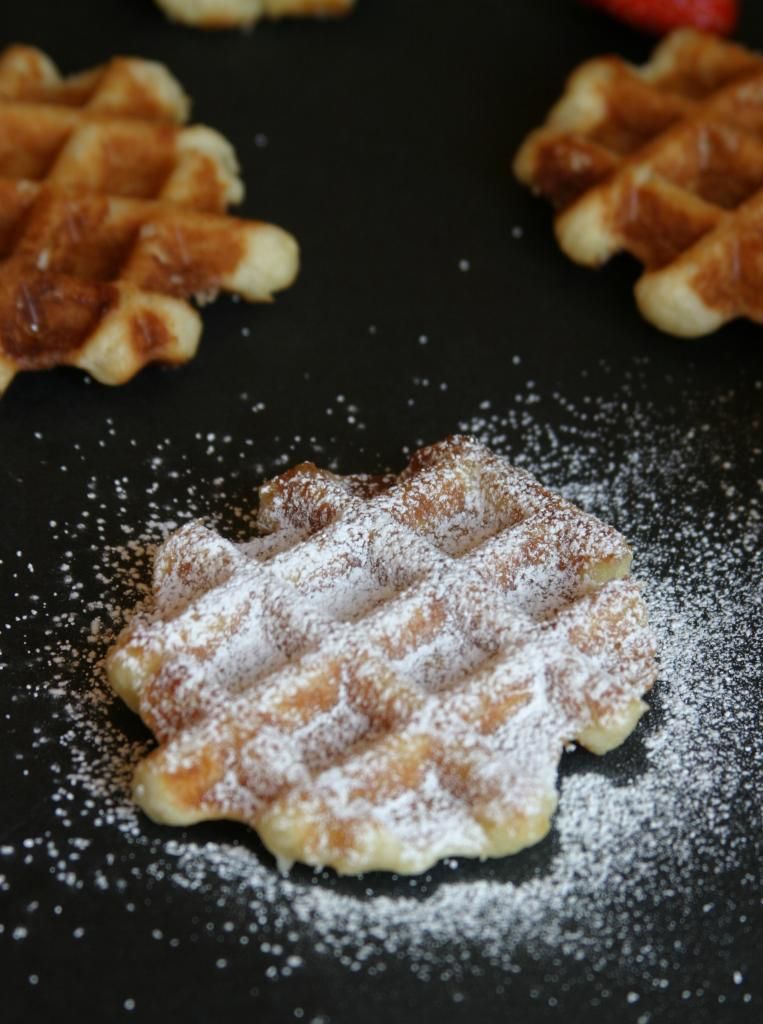 In that same vain, I have learned to take a walk just a block or two away from the big attractions in order to find the really good stuff that the locals hide from the tourists. Case in point- the waffles trucks in Bruges. If you're ever in Bruges and looking for a Belgian waffle (and why wouldn't you be?), don't go for any of the little waffle shops in the main tourist areas. The waffles are not fresh and you'll spend way more for one that will only serve to disappoint you. Instead, look for an odd little yellow van with a sarcastic and multi-lingual waffle chef serving up the best waffles I've ever eaten. And I mean that with total sincerity. Even my husband, who would pass by a carb loaded dessert for a slab of bacon in a heartbeat, was in love with these confections. Most of us know Belgian waffles as the fluffy golden waffles served at brunch buffets. But these waffles were so much more. So much better. Crispy on the outside and buttery tenderness on the inside with this almost-burnt-sugar-caramelly thing happening. To die for...
I took a picture of the yellow van in case I ever have the pleasure of going back. But in the meantime, I've worked up my own version to make at home that is oh so close. It's just missing the magic of being in a foreign city awaiting a ride down a beautiful canal. That will just have to remain in my memory and imagination.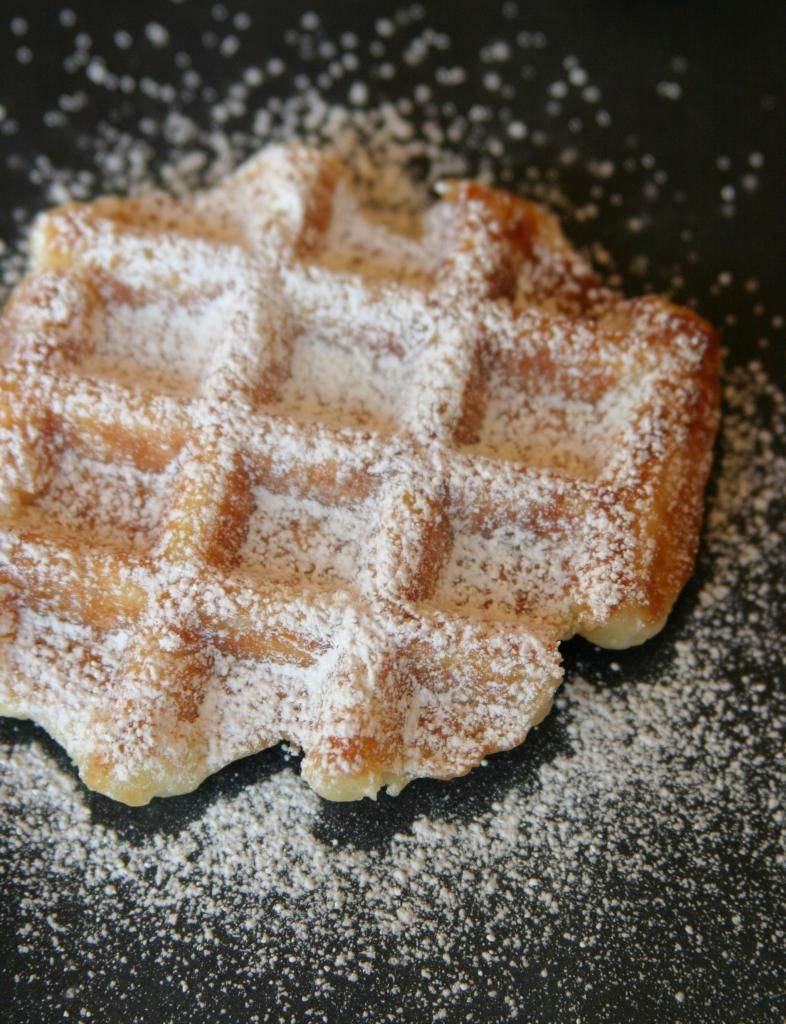 Liege-style Belgian Waffles
Makes about 18 4 inch waffles.
For the printable recipe, click here.
These waffles are a two step process that I actually find to be easier than traditional waffle making. They are a yeast based waffle which gives them a sort of malty background flavor as well as the necessary lift. Whip the batter up the night before
your big breakfast and then all you have to do is stir in the sugar in the morning and get to the waffle baking. Speaking of the sugar, the secret to these waffles is the Liege sugar crystals you use. They are large chunks of sugar usually called pearl sugar. These can be tricky to find (though here in Europe it's a lot easier- in my German store they're called hagelzuker, or hail sugar). You can get the sugar in IKEA stores or online at Amazon. Though I have been told that coarsely breaking up sugar cubes works pretty well or even using coarse turbinado sugar comes close to the real thing. I haven't tried those methods, but maybe they'll work for you if you can't find the pearl sugar nearby.
You can use any type of waffle maker, you don't need a Belgian waffle maker. I use a 2 tablespoon ice cream/cookie scoop to scoop out the batter (it's like a thick cookie batter) and place it just a bit off center towards the back of the waffle iron so that it doesn't come squishing out of the front when I close the lid.
2 tsp active dry yeast (1 envelope)
1/3 cup lukewarm water
2 tbs milk
1 1/2 tbs sugar
1 tsp vanilla extract or vanilla paste
2 cups all purpose flour
1 cup room temperature butter
1/2-2/3 cups pearl sugar
** I am giving the directions assuming that you have a stand mixer. If you don't (like me), you can do all of the mixing by hand with a sturdy wooden spoon or spatula. It's just takes a bit of elbow grease and patience.**
In the bowl of a stand mixer stir together the yeast, water, milk and sugar. Let this mixture stand for about 5 minutes to dissolve the yeast and start it's activation. It should be a bit bubbly. Stir in the vanilla.
Using the dough hook, stir in the flour on low speed until it is fully incorporated. With the mixer on, slowly begin mixing in the butter 2 tablespoons at a time. Remove the bowl from the mixer, cover with plastic wrap and let stand on the counter until the dough doubles in volume or refrigerate overnight.
When you are ready to bake the waffles, heat your waffle maker according to the manufacturer's directions. Stir the pearl sugar into the waffle batter and let it sit on the counter for 15 minutes.
Scoop the batter two tablespoons at a time onto a lightly buttered waffle maker. Close the lid and let cook for 4-5 minutes or until the waffles are golden and the center is cooked through. Serve the waffles warm with a dusting of powdered sugar or smear of jam or Nutella.
Extra waffles can be kept in the refrigerator for a day or two in an airtight container and reheated gently in the oven or toaster.