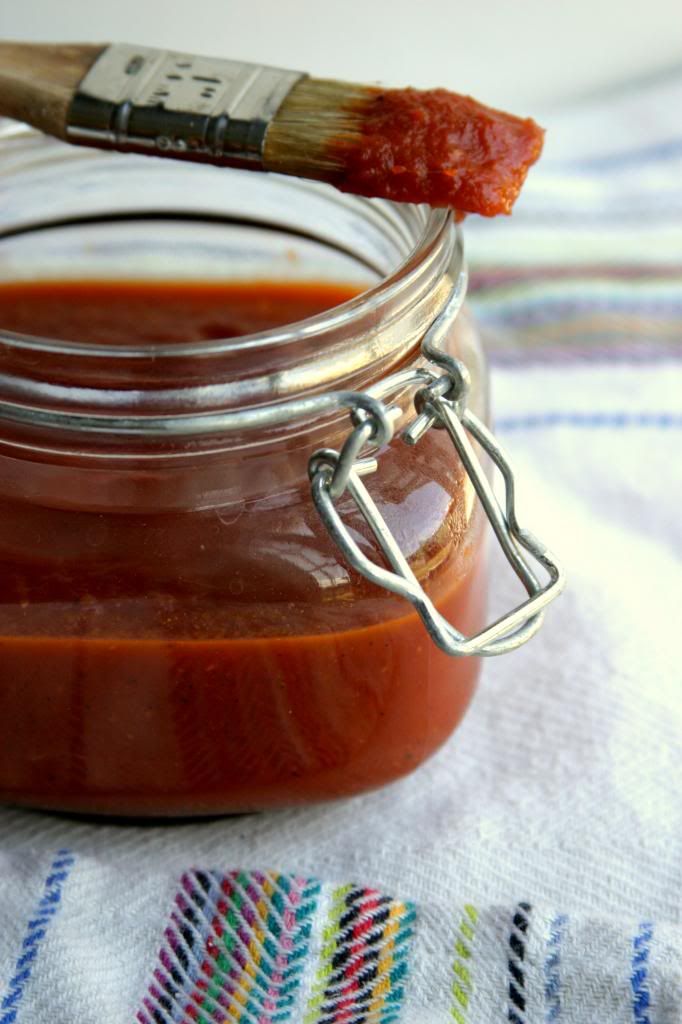 One of the first meals I ever cooked for my family was centered around barbequed chicken. And I'm not talking my hubby and kids. I mean my parents and sister. I couldn't exactly say when it was, high school or college, but I remember being excited and nervous all at the same time. I mean, my Mom had been making fabulous dinners for us since we were itty bitty and it was definitely a lot to live up to (not that she would have ever put any pressure or expectations on me, the nerves were all mine). I don't remember why I made this dinner, there was no special occasion that I can recall. But I can still very clearly picture myself stirring the sauce on my Mom's stove top and carrying it to the grill to coat the pieces of chicken I planned on serving. But the most lasting memory of it is the pride I felt in having actually made my own barbeque sauce for the chicken having and the sweet tang of my first bite of chicken. Oh, any my family loved it!
The recipe for the sauce came from one of the books in my Mom's extensive collection. A book that I later, ahem, "borrowed" from her and conveniently never remembered to return. It was a Carolina sauce, sweet from brown sugar and a great vinegar-y tang that I just loved. Over the years I tried other sauces from that book, but it was always the Carolina sauce that had my heart won over.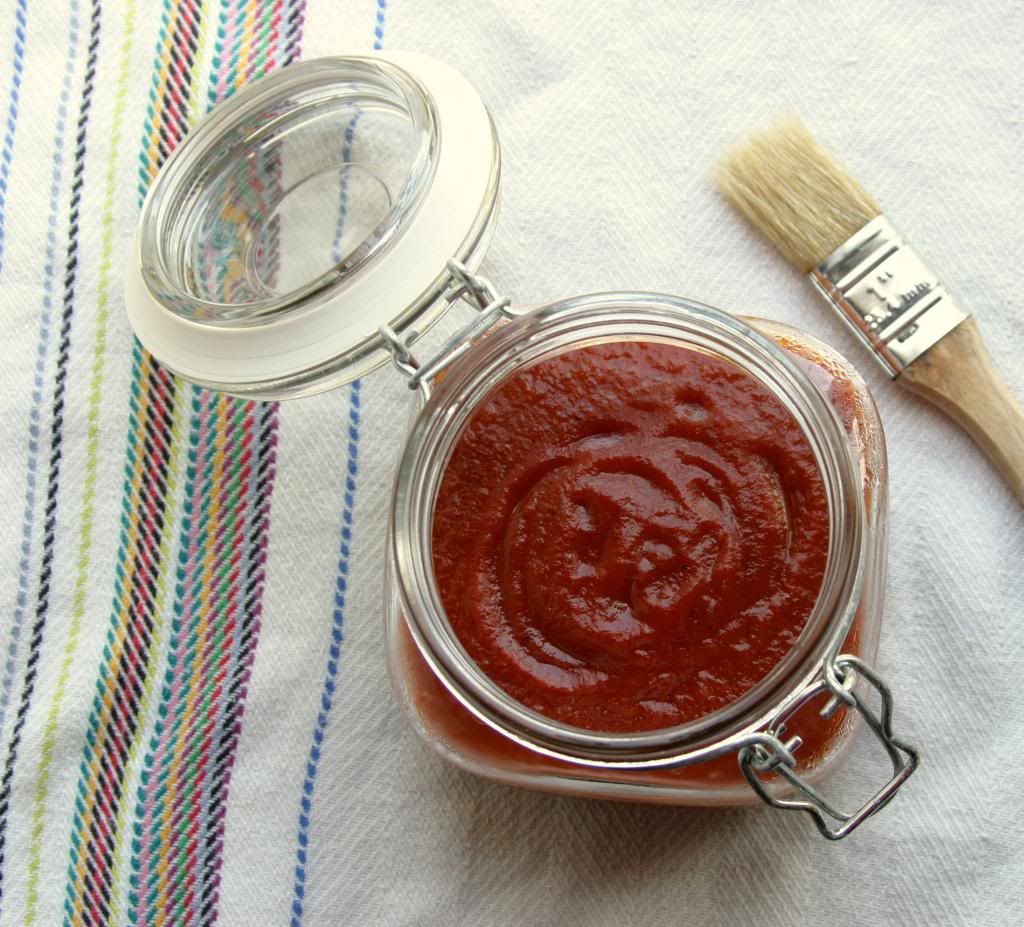 Perhaps it was nostalgia over that first successful meal I cooked for my Mom, but that sauce is the one that I always measure others against. I suppose, to me, it has reached an almost legendary status. But my beloved sauce would never fly on my dinner table these days. My husband just can't abide by sweet sauces, preferring a bolder smoky flavor instead. I've made my peace with it, but I will always miss my Carolina sauce.
Then came this sauce. My husband's first words to me as he took his first bites of the chicken I had slathered with my newest version were "Please tell me you wrote this recipe down". Winner, winner, chicken dinner! Seriously, is there a better compliment? And thank goodness I had the good instincts to keep track of what I was doing as I created the sauce, because I know I would never be able to repeat this one from memory. Maybe this one will rise to meet the "legendary" status of my very first home made barbeque sauce in time too. I don't know. But for now, it's what we're craving in my house. And that (in the words of Martha Stewart) is a very good thing.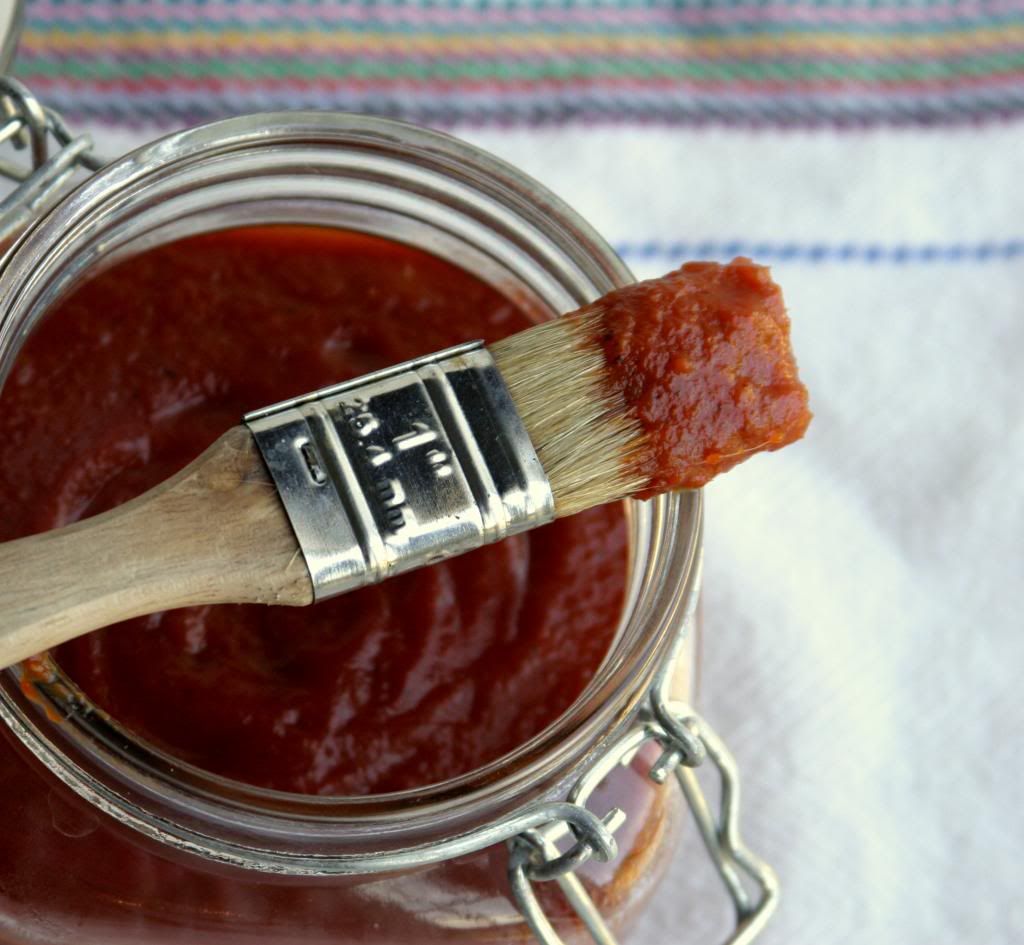 Fire Roasted BBQ Sauce
Makes about 1 1/2 cups.
For the printable recipe, click here.
Barbeque sauce is one of the simplest things to make at home, people are just so used to the convenience of the store bought bottled stuff that they never think to make their own. But truly, nothing compares to what you can make on your own stove top. This sauce has a bit of a spicy kick, but you can use regular fire roasted tomatoes instead of the ones with the green chilies if you don't like the heat (though I would try it this way first). Then there's the tang of the vinegar balanced with just a bit of sweet. It's a sauce for everyone. The best part is that all you do is throw everything in the pot and cook until it's thick. It's that simple.
1 tbs vegetable or canola oil
1/4 cup chopped onion
1 clove garlic, minced
1 cup pureed fire roasted tomatoes with green chilies (if you can't find that in your store, you could use 1 cup pureed fire roasted tomatoes along with 2 tsp chopped canned green chilies)
1 tbs tomato paste
1/4 cup water
1 tbs molasses
1 tbs jam (apricot, peach or cherry) or 2 tbs brown sugar
2 tsp worcestershire sauce
1 tsp dijon mustard
1 tsp kosher salt
2 tbs apple cider vinegar
In a medium sauce pan, heat the oil. Stir in the onion and saute until the onions soften and begin to be translucent, about 4 minutes. Stir in the garlic and cook another minute until the garlic is just fragrant. Stir in the rest of the ingredients. Bring the sauce to a boil and then reduce the heat. Simmer the sauce until it begins to thicken, about 15 minutes. Remove the pan from the heat. If you like a smooth sauce, you can blend the sauce in the pot with an immersion blender or in a blender (I recommend waiting until it cools to use the blender). The sauce will keep for up to two weeks in a airtight container in the refrigerator.