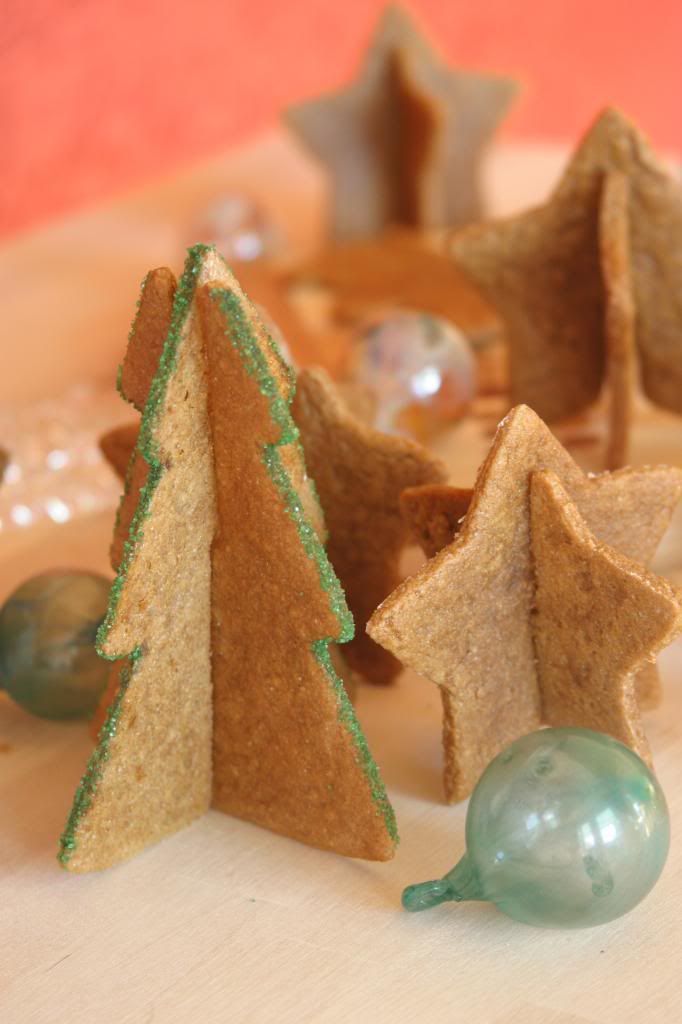 This morning as I was dropping off my little one at school I caught a glimpse of another Mom who must be much more on top of things than I am. She was carry a little bundle of cookies all bagged up and be-ribboned to give to teachers as gifts. And it dawned on me- Christmas is in just one week. I've only got three more days to pull together something tasty and sweet for my boys' teachers.
How did that happen? Didn't I
just implore good old St. Nick
to gift me with a bit more time?
My plan was to bake up a few batches of tried and true cookies- including my favorite chai spiced chocolate crinkle
cookies
and maybe some
pizzelles
- to gift to teachers and neighbors. We've got a cookie swap coming up in a few days as well and the there's Operation Cookie Drop, which the USO organizes to drop off cookies to soldiers, sailors and airmen who are stuck standing watch on Christmas Eve and Christmas day. In other words, I think I'll be up to my eyeballs in cookies for the next few days. Thanks to my hubby, who gave me my Christmas present (a new Kitchen Aid mixer!) early, I think I'm up to the task. The only question is which other cookies I want to include in my treat bags?
I think these little cookies may just make the cut. I already have a favorite molasses cookie- from Cooks Illustrated- so I wasn't too sure about these, but I gave them a shot anyway. Unlike most other cookie recipes, this one only makes about a dozen cookies. I kind of like that. There are just enough cookies to satisfy without making so many that you can't stand them anymore by the time you finish them off. They're chewy, warmly spiced and couldn't be any more Christmas-y if they tried.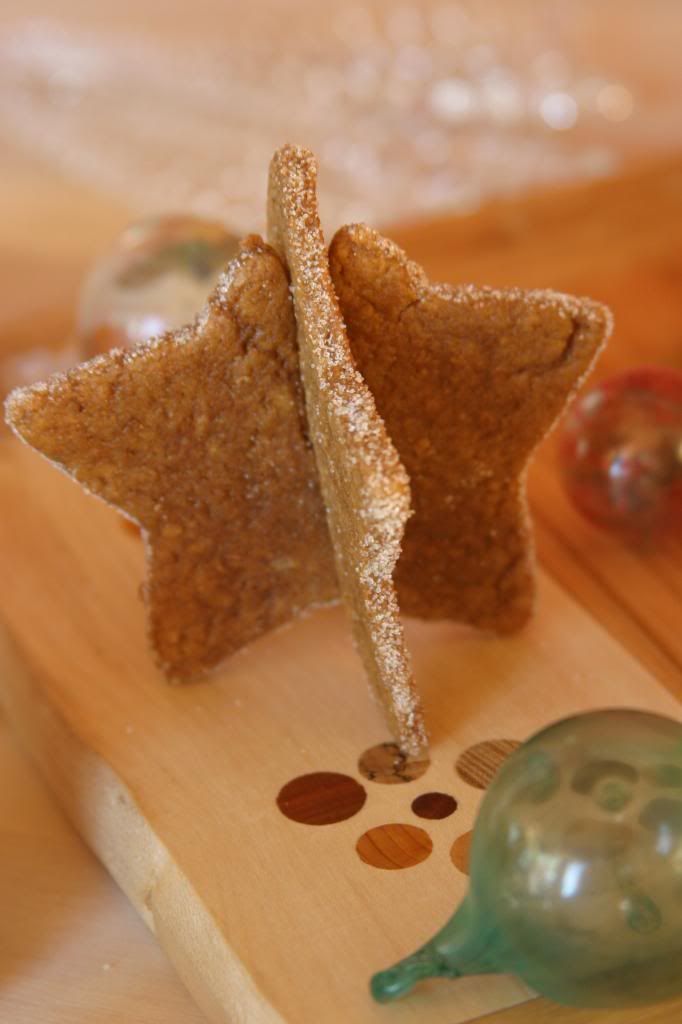 It's been forever since I posted a Tuesdays with Dorie recipe and I missed the fun group of bloggers that I get to bake along with. That international move just completely got in the way. And then, of course, I had to figure out how to get by in this tiny kitchen of mine and how to find what I need in the German grocery stores. Just like everything else lately, I'm a bit behind and still trying to play catch up. But I'm slowly getting there and this is the first step in getting back to normal (or at least my new normal). I'm going to include the recipe because I made a few changes. And here's
the link
to find everyone else's version of these tasty little cookies.
Spelt (or Whole Wheat) Gingersnap Cookies
Makes about 1 dozen cookies. Adapted from Baking with Julia, edited by Dorie Greenspan. Recipe by David Blom.
Click here for the printable.
I love that the ingredients list for these cookies is relatively short and the process is fairly simple and straightforward. I did feel the need to tweak it just a bit though. The first batch I made was strictly by the books. I found that for being called a gingersnap, the original didn't seem to have a whole lot of ginger or snap to it. So I upped the amount of spice a bit and added cloves. I liked the first batch, but felt my second lived up
to its name more fully. I also swapped out the all purpose flour for spelt flour. Mostly because it was at the front of my cabinet, but also because I knew I could hide it easily from my family in an already deeply colored dough
.
I quite enjoyed the depth that it cave the cookie. If you can't find spelt, you can certainly use whole wheat or all purpose flour.
1/4 cup sugar
3 tbs unsulfured molasses
2 tbs butter at room temperature
1/2 tsp ground ginger
1/4 tsp cinnamon
1/8 tsp ground cloves
1/8 tsp baking soda
1 1/2 tbs water
3/4 cup spelt (or whole wheat) flour
To glaze the cookies, you'll need 1 tbs molasses and 1 tbs water.
In the bowl of a mixer fitted with the paddle attachment (or a bowl suitable for use with a hand mixer) place the sugar, molasses, butter spices and baking soda. Mix on medium speed until the butter is whipped and creamy and all of the ingredients fully incorporated. This should take about 2 minutes. Slowly mix in the baking soda and flour until you have a soft dough, about 1 minute more.
Wrap the dough in plastic wrap, shaping it into a rough square or rectangle. Place the dough into the refrigerator until it firms up, 2 to 3 hours (or freeze for 45 minutes).
When ready to bake the cookies, remove the dough from the refrigerator and preheat your oven to 325 degrees. Line 2 baking sheets with parchment paper or a nonstick silicone liner.
Generously flour your work surface and rolling pin as the dough is quite sticky. Roll the dough out into a rectangle between 1/8 and 1/4 inch thick. Using a 2 inch cookie cutter dipped in flour, cut out cookies from the dough. Place them on the baking sheets with just a bit of room between them- they spread very little if at all. You can re-roll the scraps and cut out more cookies. If the dough is too soft, place it back into the refrigerator or freezer until it firms up a bit.
Mix the glaze and brush it on the unbaked cookies. Don't be too generous with the glaze, it can make the cookies a bit soggy. Bake the cookies for about 6 minutes. They will puff up and become just a bit firm (they will fall back down when cooling). Cool the cookies on the baking sheet for about a minute before removing them to finish cooling on a wire rack. The cookies will keep for up to 4 days in a well sealed container.