When I started this blog 3 years ago, I was simply trying to document my family's favorite recipes and maybe have a place to point friends to when they asked for the recipes. I hadn't counted on enjoying it as much as I do or falling in love with food photography (even though I'm clearly still not the world's best at it). I somehow never dreamed that it would still be going all these many posts later.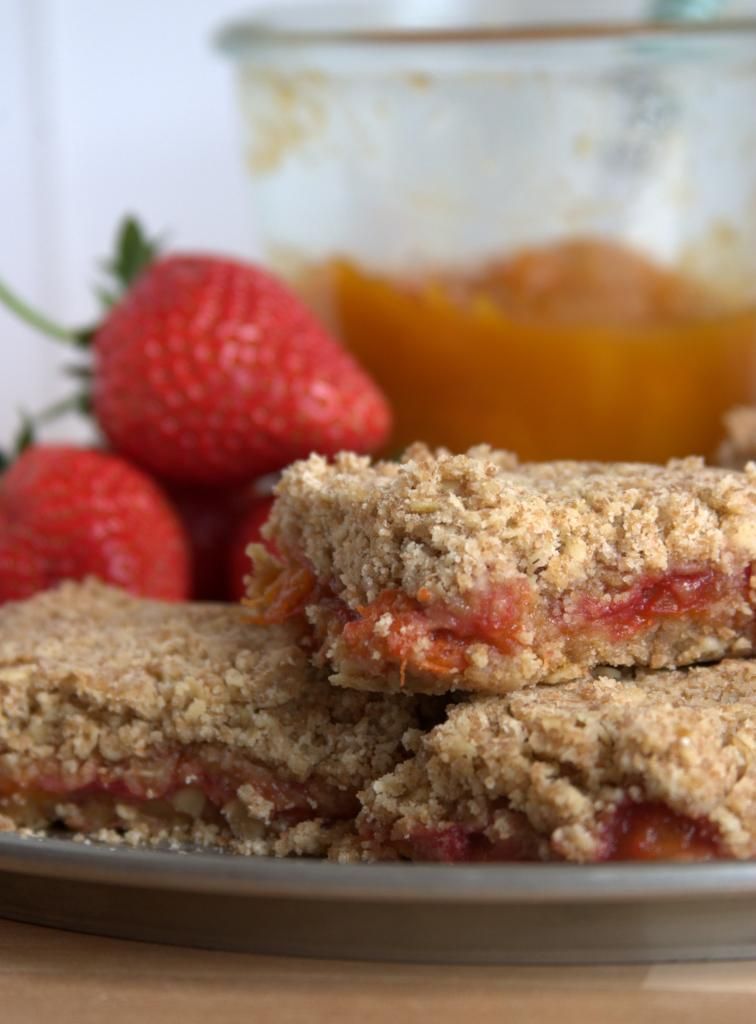 I've been going though a bit of a funk lately. I'm going to chalk it up to being 6 months pregnant and just exhausted, both mentally and physically. I have these moments of energy and inspiration and can cook, bake and photograph up a storm. But they run out quickly and I'm back to feeling blah. So I've actually got a ton of recipes hanging out in files all edited and ready to go, but I run out of motivation when it comes to getting them out to my (tiny but loyal) following. This recipe is one of those that's been lingering for a while, but so worthy of sharing.
The inspiration for our favorite breakfast bars was a particularly good market day a few weeks back. Both strawberries and apricots were beginning to make their way to the market and as they are among my little guy's favorites, I brought home a whole lot of both. The apricots were, as early season fruit often are, a bit on the tart side. So instead of eating out of hand, I turned them into a quick jam. Coupled with a recipe from the wonderful
Pioneer Woman
and the few remaining strawberries I whipped the bars up. The rest is history, as they say, and I have made these bars at the request of my kids several times since.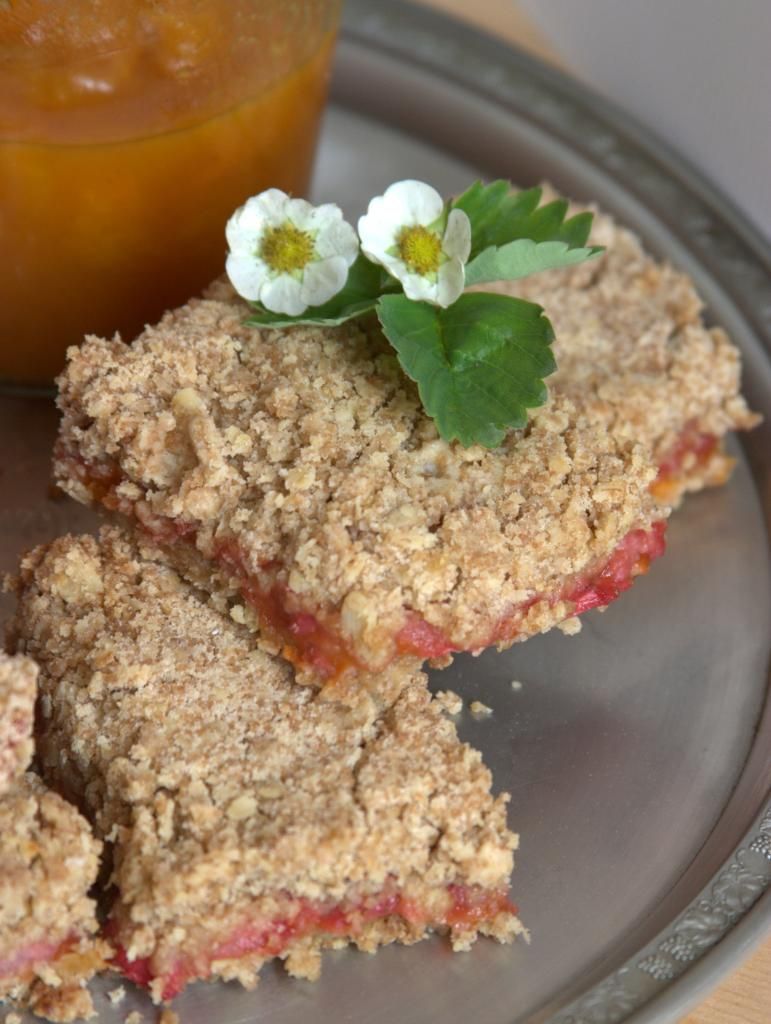 Strawberry Apricot Breakfast Bars
Makes 12 bars. Recipe adapted from Pioneer Woman.
For the printable recipe, click here.
I like to throw a bit of whole wheat flour into the mix with these bars. Maybe it's only psychological, but I feel like I making them healthier by doing so. I eat the bars for breakfast and it makes me feel better about it. These are simple to whip up and can be made completely by hand or in the food processor. Feel free to change up the fruit to suit your taste. The bars would be equally delicious for dessert served with vanilla ice cream.
1 1/2 cup all purpose flour
1/2 cup whole wheat flour
1 cup old fashioned oats (not quick cooking)
1 cup brown sugar
1 tsp baking powder
1 tsp grated nutmeg
14 tbs butter (2 sticks minus two tablespoons), cut into small pieces
about 1 cup apricot jam
handful of strawberries, washed, hulled and sliced
Preheat your oven to 350 degrees. Butter a 9 x 13 inch pan and set aside.
In a large bowl, whisk together all of the dry ingredients (all purpose flour through nutmeg). Blend the butter into the flour mixture with your fingertips or a pastry blender. You want the butter to be well blended with the largest of any remaining pieces being no bigger than a pea. The mixture should hold together when pressed between your fingers.
Press half of the crust mixture into the prepared pan. Spread the jam over the bottom crust, being careful not to disturb the crust below too much. Place the strawberry slices in one even layer over the jam. Pour the rest of the crust over the top, spread evenly and press gently into place.
Bake the bars for 35-40 minutes until the top is just lightly golden and set. Cool completely before cutting and serving. The bars will keep on the counter, well wrapped, for 2-3 days.