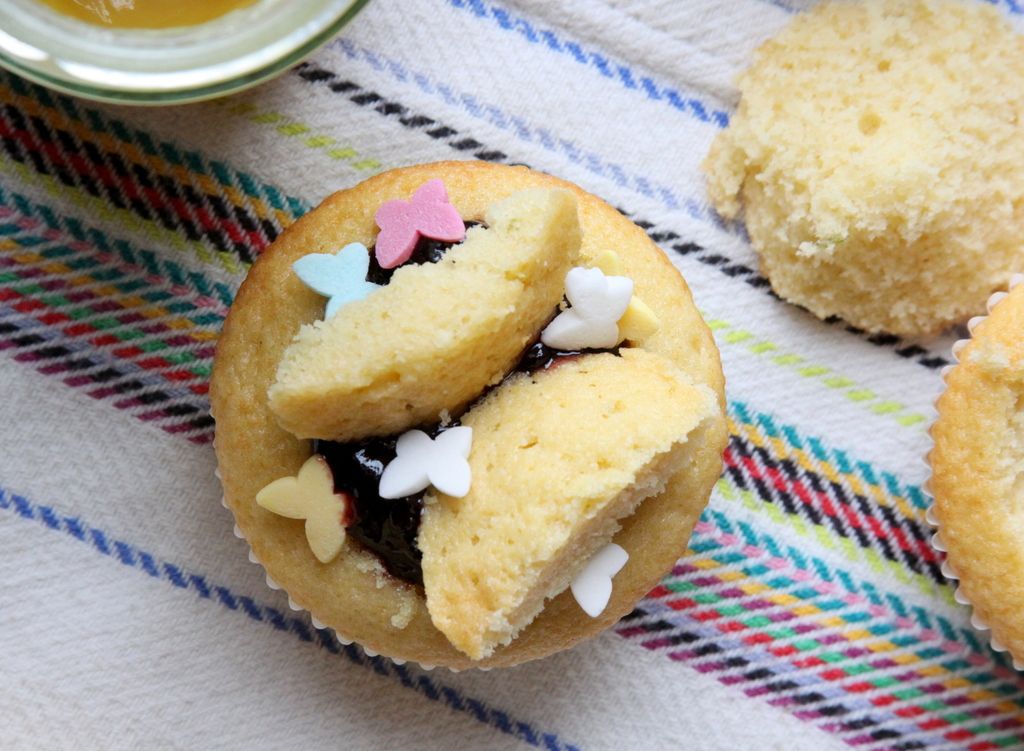 I'm going to exercise all of my patience, good nature and positivity today. It's imperative. Because if I give in to the "dark side" of my mood things can go very bad, very quickly. (Can you tell I just watched the newest Star Wars?)
There are some big wheels turning right now that determine the future of my family and they are just turning WAY TOO SLOW for my liking. It's time for the next big move thanks to the Navy and we know
where
we are going but the when, how and how frustrated we will be along the way is still up in the air. The simple act of moving is difficult as it is but throw in three kids, an international move, moving our furnishings into storage, passports, visas and a month in the States in between and you can see how I might be just the tiniest bit stressed.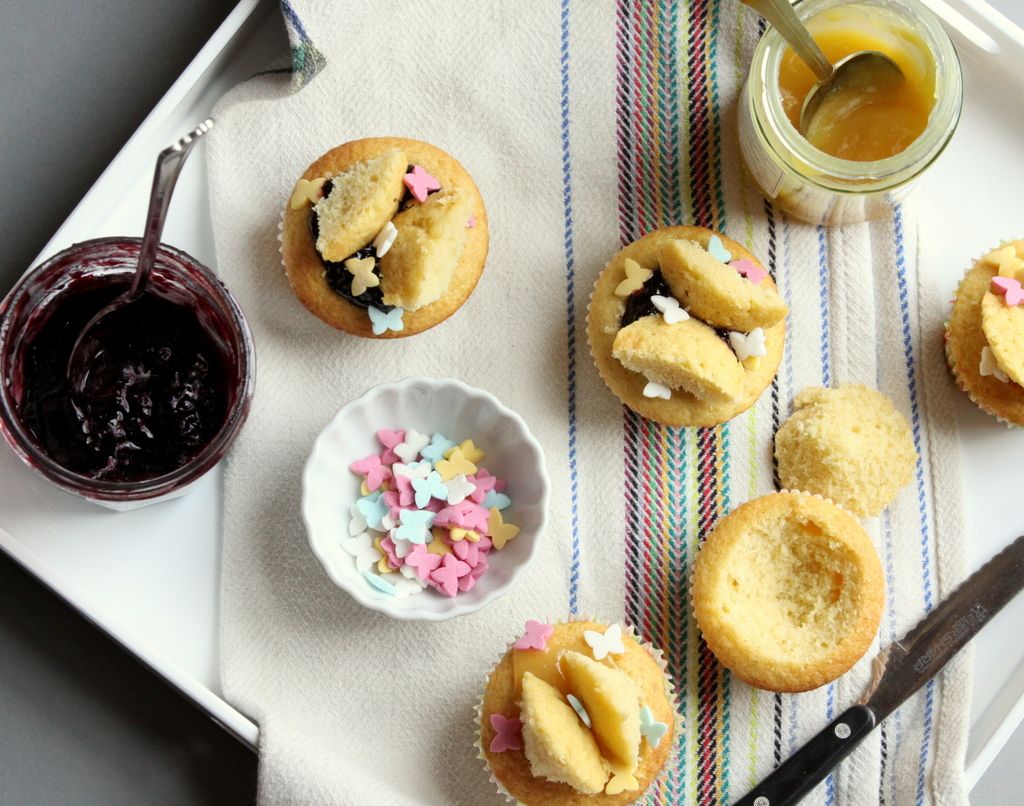 So instead over obsessing over things that are completely out of my control, I'm making cupcakes. Simple, light, vanilla scented ones. I've made these a few times recently and I'm happy to say that they always turn out just right and are easy to play with if you want to go beyond basic. The first time I baked them I made these sweet little butterfly cupcakes like my Nana used to make. You just cut a cone-shaped piece of cake from the top, fill the hole with something delicious (I used jam and lemon curd this time, but Nana used to use pastry cream), slice the cake cone in half and nestle it in the filling to look like butterfly wings. My kids loved them and I was reminded of hanging out in Nana's kitchen as a little girl. If anything was going to make me forget a mountain of stress, that was it.
Thanks, Nana.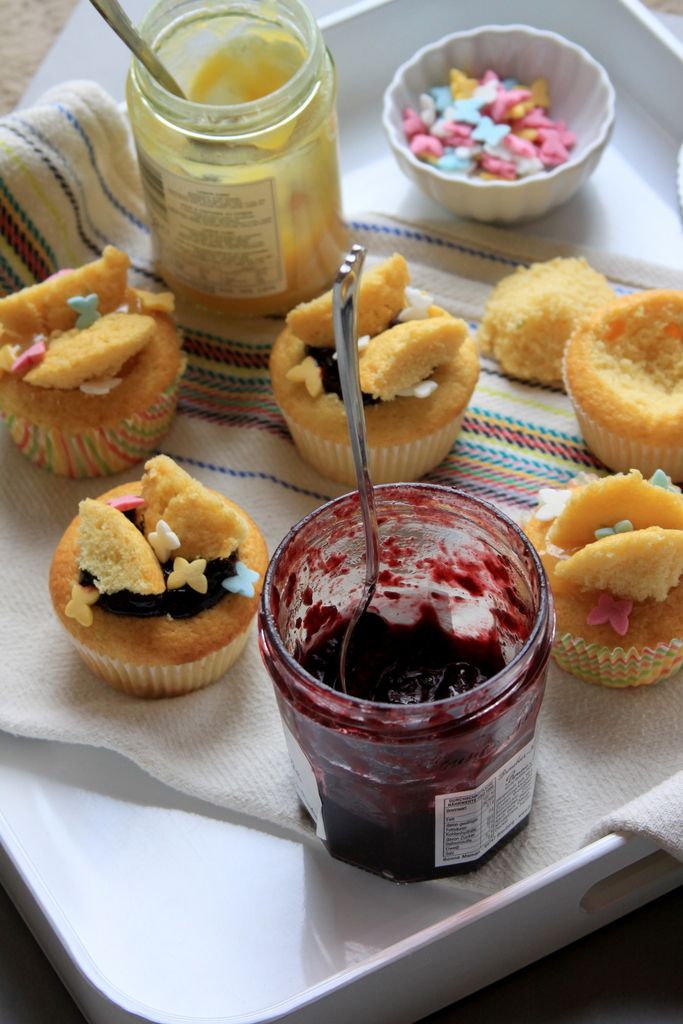 Buttermilk Cupcakes
Makes 1 dozen standard cupcakes. Adapted from this recipe by Martha Stewart.
For the printable recipe, click here.
This is a simple, basic cupcake that you can do in one bowl by hand without having to pull out (or clean!) a big mixer if you don't want to. It just takes a little elbow grease to whisk the eggs and sugar but it's totally do-able. That kinda makes it perfect in my book. The other bonus with this cupcake is that you really can leave it simple or jazz it up any way you want. I've made them with mini chocolate chips for a birthday topped with buttercream and left them plain for a quick treat. Add some lemon zest and blueberries, warm spices like cinnamon or cardamom or even bits of toffee or nuts to make them completely special and different. What you do with the cupcakes is up to you but they are bound to become one of those recipes you keep coming back to time and again.
2 large eggs, room temperature
2/3 cup sugar
1 cup all purpose flour
1 tsp baking powder
1/3 cup buttermilk
4 tbs butter
1/2 tsp vanilla extract
Preheat your oven to 350 degrees. Line the cups of a standard cupcake tin with cupcake liners. Set aside.
Place the eggs and sugar into the bowl of an electric mixer. Whisk on medium high until the mixture has thickened, lightened in color and forms ribbons on the surface that hold for a few seconds before disappearing. (Alternately, you can do this by hand with a whisk and a large bowl). Reduce the speed to low and slowly add in the flour and baking powder. Mix just until incorporated.
In a small saucepan, warm the buttermilk and butter just until the butter melts. With the mixer on low, slowly add the buttermilk/butter mixture to the batter until it is smooth. Add in the vanilla and mix until just incorporated (if you want to add anything to the batter such as chocolate chips or berries, add them now).
Divide the batter evenly among the prepared cupcake cups. Bake for about 15 minutes, or until the cupcakes are lightly golden on top and the tops spring back when pressed gently and a toothpick inserted into the center comes out clean. Let the cupcakes cool in the tin on a wire rack for about 10 minutes. Remove from the tin and cool completely on the rack. Cupcakes can be stored in an airtight container for up to three days at room temperature.