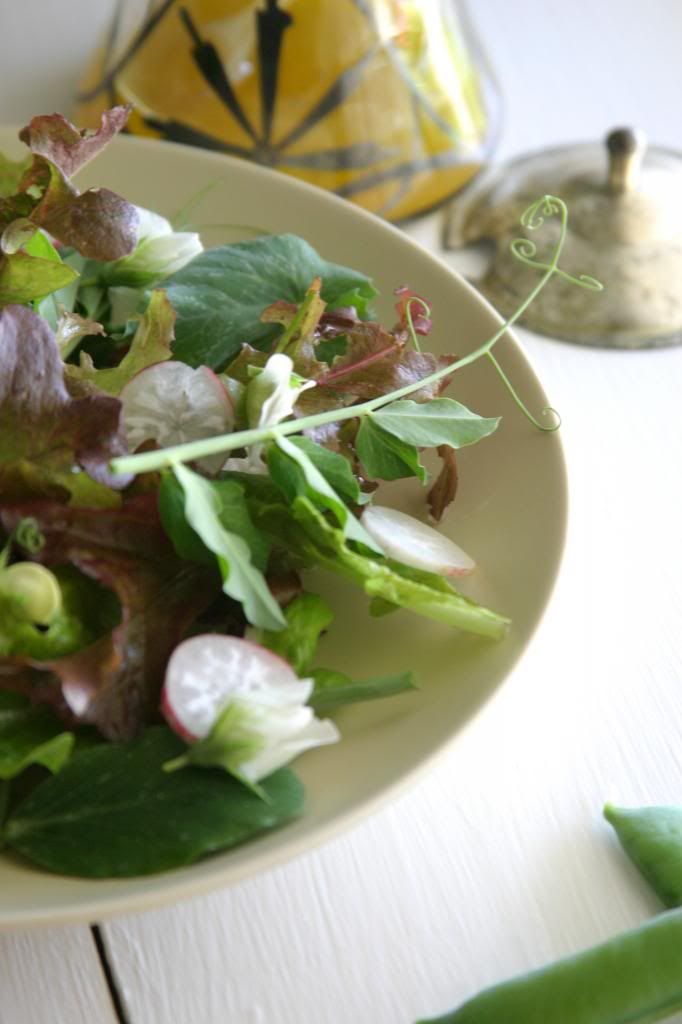 It's easy to get caught in a game of one-upmanship in the blogging world. There's a nagging presence in the back of my mind that to get noticed I need to come up with the most complicated, unusual or exotic recipe. I often feel as if an idea that I have is too simple or that it's been done before. And the whole motivation here is for people to read and like what I present, right? So if someone else has already done it, than what's the point?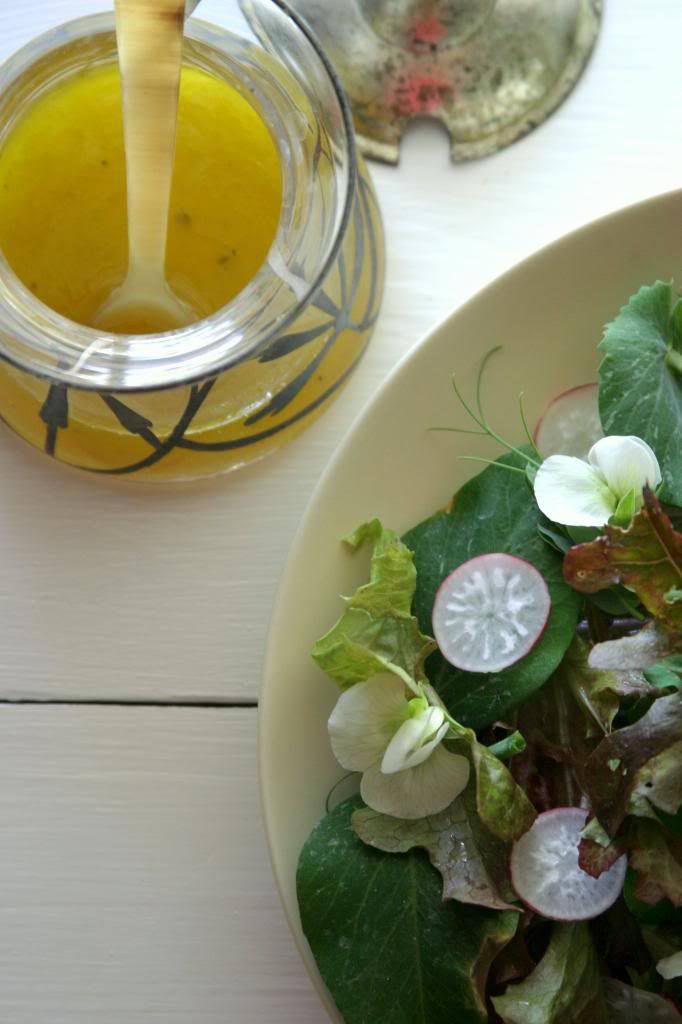 But what's occurred to me recently is that even if it has been done before, it hasn't been done from my perspective, with my eye and my voice. And that's what makes it unique to me. If only 12 people read my posts and no one else ever tries out the recipes here, then so be it. I've made myself proud by what I present and that's all that really counts, right? Don't get me wrong, I'd love for all sorts of people to take notice and find me interesting enough to come back for more. But I'm also realistic. That sort of thing is tough to come by here in the food blogging world. You've got to have just the right timing, point of view and that certain unnamed "it" to really make it. Even if I never have "it", I'm happy just to be me.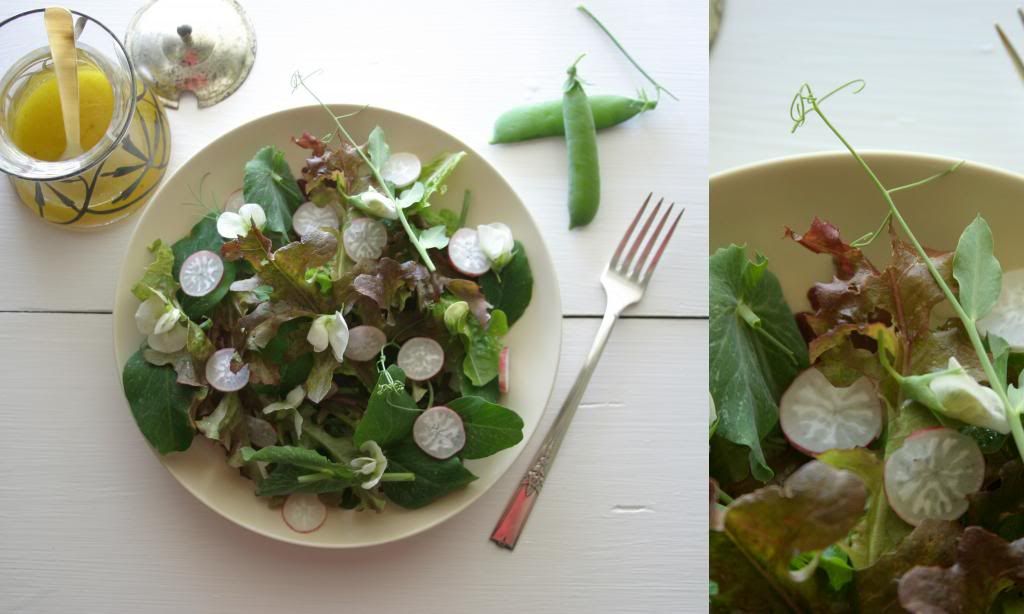 Spring Pea Shoot Salad with Lemon Honey Ginger Vinaigrette
Makes salads for two.
For the printable recipe, click here.
I decided simple was best here to let the fresh, perfectly seasonal ingredients shine. So I didn't add a whole bunch of components to the salad and the dressing is only a few ingredients. I suppose a few nuts (maybe pecans or walnuts) or a sprinkling of fresh goat cheese would be appropriate if you want to add just a little something to jazz it up, but if you have really great ingredients, you don't need much more. I had the salad all by itself for lunch, but I can imagine it would be lovely alongside a serving of roasted salmon (drizzled with a bit of the vinaigrette, too) for a satisfying supper. I used a ginger infused white balsamic vinegar, but have included in the recipe a measurement for added ginger as my vinegar isn't widely available.
2 packed cups pea shoots (save the flowers if you have any- they're edible too!)
2 cups mixed baby lettuce or arugula
3-4 french breakfast radishes, thinly sliced
1 lemon, zested and juiced (use a Meyer if you can find one)
2 tsp honey
1/8 tsp dried ground ginger or a pinch of grated fresh ginger
2 tbs white balsamic or champagne vinegar
1/4 cup plus 2 tbs olive oil
salt and pepper to taste
Wash, dry and roughly chop the pea shoots and lettuce or arugula. Place into a medium bowl. Toss in the radish slices.
In a small bowl, whisk together the lemon juice and zest, honey, ginger and vinegar. Drizzle in the olive oil, whisking to incorporate and emulsify the dressing. Add salt and pepper.
Toss the salad with half the dressing and distribute to two plates. Add additional vinaigrette and salt and pepper to each plate to taste.