The strawberries are everywhere right now. In my garden, at the markets and at my favorite little organic farmstand. This makes sense as I'm living in the heart of the California strawberry growing farmland, but it always makes me a little giddy. And this year the crop is looking great. The air smells like strawberries when you pass through the fields on the warm breezy days, and most days are warm and breezy this time of year.
It's bittersweet for me this time around. This is the start of my favorite time of year here, the late spring when the berries start to get really sweet, the apricots are just around the corner, peas and radishes and carrots are filing up my garden baskets and I have so many artichokes that I don't know how to use them all.
But it's the last spring I'm going to spend here.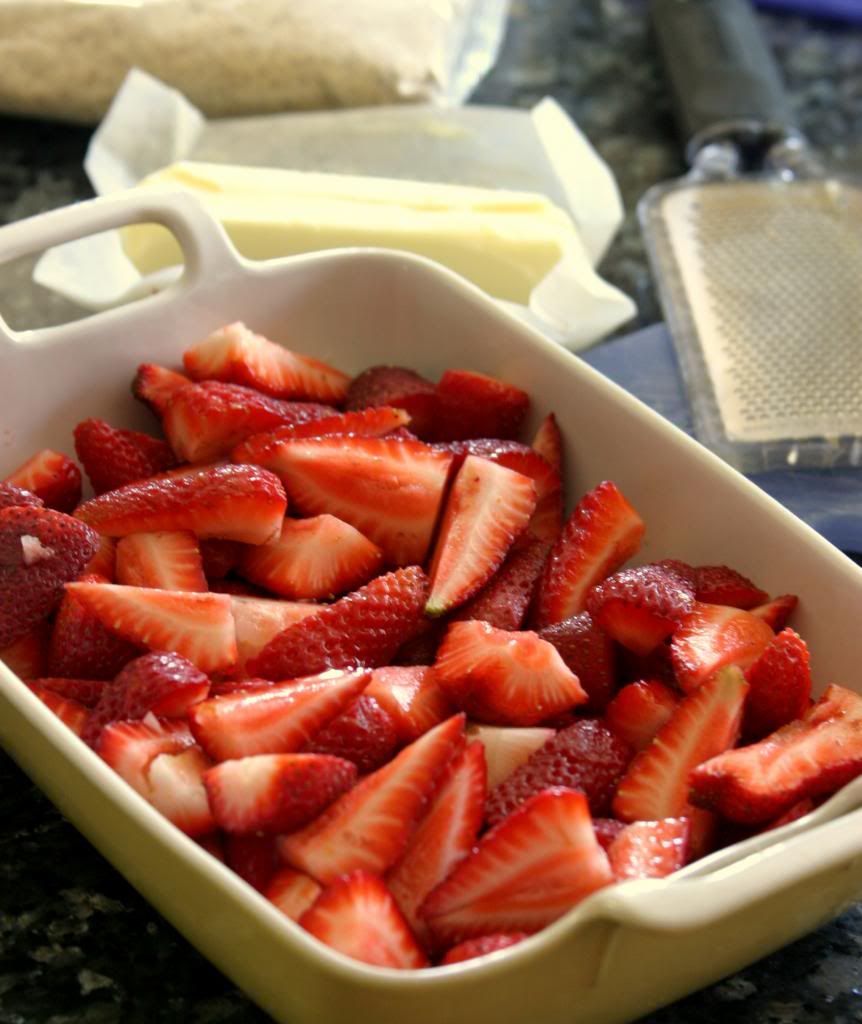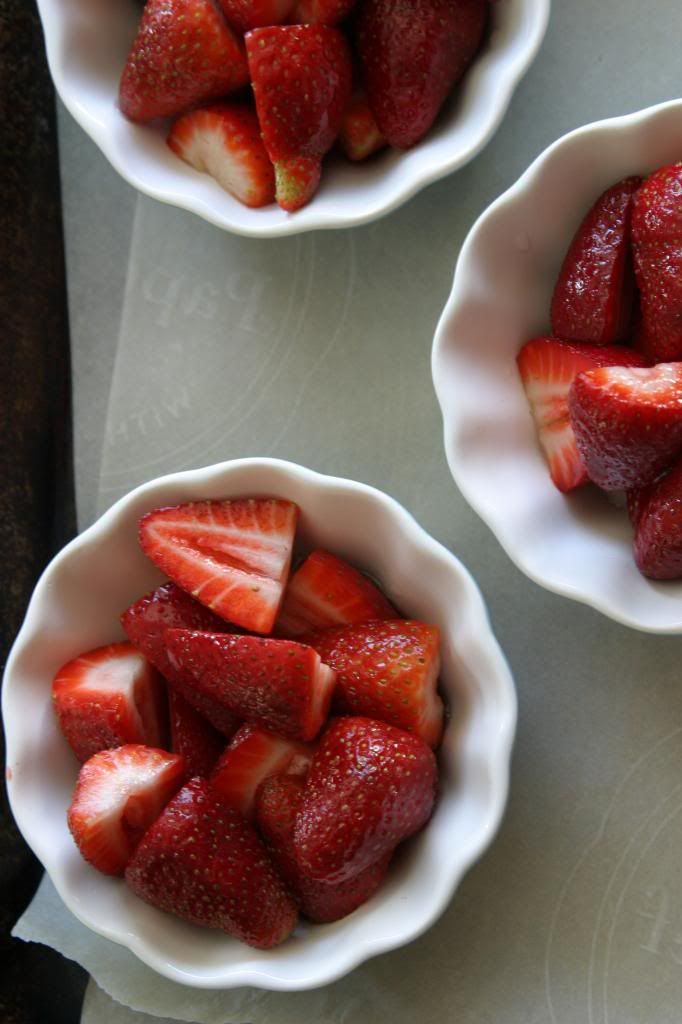 The Navy has other places for us see and bigger and better sights for us to see. We'll be shipping off to Europe this summer and while I am excited for all of the possibilities I can forsee for my family with this move, I will be terribly sad to leave this beautiful place. It's probably my favorite of all the duty stations we've been to in our Navy life. The beaches are picture perfect, the sunshine warms not only my skin, but my heart as well, and the variety of produce that grows here (practically on my doorstep) is stunning. It's inspired my cooking and what caused me to start this blog in the first place. I will be so very sad to leave that behind.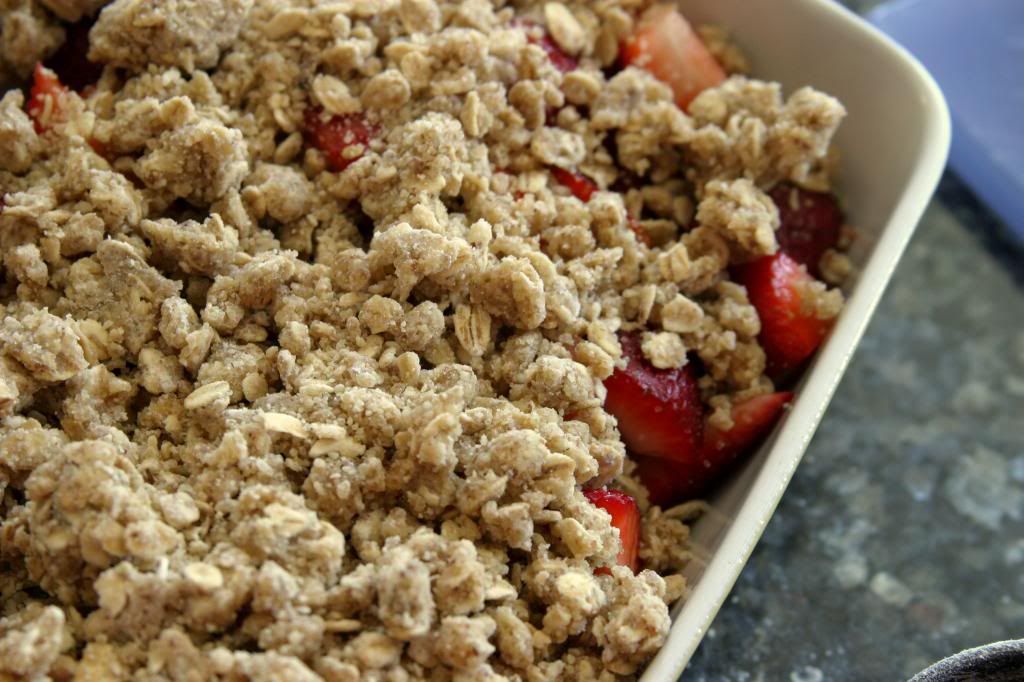 So I'm going to soak up every last second of this California bliss. And every last strawberry, plum, peach and ripe-off-the-vine tomato that comes with it.
Starting with this crumble. It's simple, quick and if you've never had a roasted strawberry you are missing out on something wonderful extraordinary. It's become my favorite way to serve up these gorgeous berries when I'm not eating them straight off the plant or out of the little plastic green basket that comes from my CSA. And I think I my family will see this easy dessert grace our table many more times before this spring is over. Our last California Spring.
Strawberry Crumble
For the printable recipe, click here.
This crumble is a bit unusual in that it uses almond flour in the topping. If you use gluten free oats, there is no wheat in the topping (great if you're a gluten free girl). But that's not why I used it here. I simply like the flavor that the almond flour gives the crumble. It's nutty without being overtly so. This crumble is easily adaptable to any kind or fruit you have or any sweetener you have on hand. I used a chamomile simple syrup that I had hanging out in my fridge after making some jam, but I think agave or maple syrup would be just as wonderful.
1 1/2 lbs strawberries, halved or quartered if large
1/2 cup almond flour (you can use all purpose or whole wheat pastry flour if you don't have almond flour on hand)
1/2 cup rolled oats
4 tbs butter
4 tbs brown sugar
Preheat your oven to 375 degrees.
Divide the strawberries between four 1 cup oven-safe ramekins or place them all in a 1 1/2 quart baking dish. Toss the berries with the syrup (divide it evenly among the ramekins if using them). Set aside.
In a medium bowl stir together the almond flour, oats and brown sugar. Using your fingers, a pastry blender or two knives, blend the butter into the almond flour mixture until the butter is the size of peas and you have varying sized clumps of crumble mixture. Sprinkle the topping over the strawberries.
Bake the crumble for approximately 25 minutes (slightly less if using the ramekins) until the strawberries have released their juices and are thick and bubbly and the topping is lightly browned.
Let the crumble cool slightly. Serve with ice cream if you like (and who wouldn't?). The crumble will keep for 2-3 days in the refrigerator in a covered container.