I'm not the world's greatest friend, I will freely admit that. I forget to call and catch up, I don't always think to see if someone wants to walk the mall with me, I really like my alone time. And I suppose I still have some lingering friendship issues that go way back to confrontations with some mean girls back in middle school (who doesn't have those?). And, yes, you're right. I'm in my
late
30s so I really need to get over that.
Most of my friends are okay with my communication issues. In fact, many of them are exactly like me. Maybe that's why I chose them as friends. We all get it. We don't need to chat every day for hours on end to be close, instead we're secure enough in our friendships to call when we need each other or genuinely want to talk or get together. And that makes those conversations, dinners or talks over a glass of wine all the more meaningful.
But as most things in life go, one of these things is not like the other. I have one super close friend, Libby, who doesn't put up with my silence. She holds me accountable for putting the time and effort into the friendship. And frankly, that's what I love about her the most. If she loves you, she'll let you know. Out loud and with passion. Of course you also don't want to get on her bad side, because she's just as vocal about that too. Libby is fiercely loyal, generous with her time and talents and she will pull you along with her for the crazy ride of life all the while pulling you out of your own shell.
Libby is also the one friend who loves to cook with me. When we lived close to each other we'd spend whole days just rummaging through cookbooks and online recipes and cooking up a storm. Those were some of the best days ever. And even now that we live many hundreds of miles apart, we still text photos of great dinners we've made and compare notes on techniques or recipes we'd like to try. It's a friendship that will endure and stand out from any of the others I've had or will have in my life. Libby is a true treasure in my life.
So I suppose it's fitting that I stole the idea for this recipe from her. It's one of my favorite Libby dishes and one the was made to share on several of those marathon cooking days or Friday night dinners at each others' houses. I have a feeling it will quickly become one of your favorites too. It's a simple salsa that will brighten up a dull day and sit perfectly aside that beer with a lime in it on a summertime picnic table. There's really nothing that compares to a freshly made salsa, and most especially this one.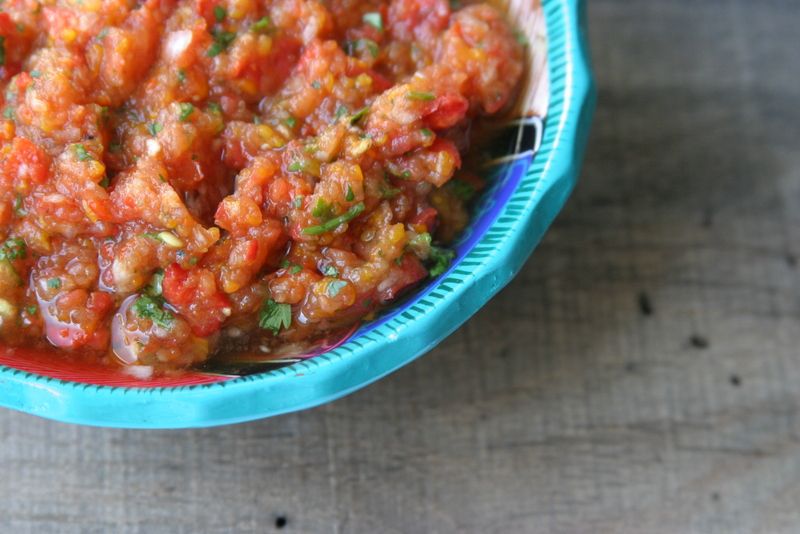 Roasted Sweet Pepper Salsa
Makes 2 generous cups of salsa. Inspired by Libby.
For the printable recipe, click here.
I often worry when I post a recipe like this that it will be too simple and unimpressive. But then, who am I trying to impress? And, honestly, everyone needs a perfect salsa recipe in their recipe files. This one is mine. It's the best with freshly made tortilla chips (just quarter those cute little corn tortillas and deep fry, then sprinkle with salt), but the bagged chips will taste just as great when paired with this salsa and a beer. You must have the beer.
You won't regret it.
I never really measure my quantities when I make salsa, so these are approximates. And the truth is, salsa is one of those things that you have to taste along the way anyway. You never know how flavorful and fresh the tomatoes will taste or how spicy your pepper will be. So try as you go and you'll get it right.
2 red, yellow or orange bell peppers or 6 of the multicolored baby bell peppers
3 large Roma or plum tomatoes, coarsely chopped
1/2 white or red onion
1 to 2 jalapeno or serrano chilies
handful (about 1/3 cup) cilantro
juice of 1 lime
salt to taste (I usually end up with 1/2 to 1 tsp)
Place the bell peppers on a baking tray in a hot oven (450 degrees) to roast, or you can place them over an open gas flame on your stove top or grill. Roast the peppers until the skins have charred and blistered, turning occasionally. It will take about 10-12 minutes to get them fully roasted. Place the roasted peppers in a plastic or paper bag and seal. When the peppers are cool enough to handle, peel the skins off and pull out the stems and seeds. Coarsely chop the peppers.
Seed and coarsely chop the jalapeno pepper. You may want to taste the tiniest bit to determine the amount of heat the pepper has (I usually just touch a cut end to my tongue and can judge it's heat by that tiny taste).
You can chop all of the ingredients by hand and simply mix them together. You will get a chunky salsa if you do it that way. If you chop by hand, simply chop all of the ingredients as finely as you like them, stir together and taste to decide how much salt you'd like and if the salsa needs any additional lime juice. I like a smoother salsa so I use my food processor to do the work for me. To make the salsa using a food processor, place the onion and jalapeno in the food processor and pulse several times to begin chopping. Then add the rest of the ingredients and process until some larger pieces still remain but the salsa is mostly finely chopped. Taste for salt and lime.
Serve with tortilla chips. The salsa will keep, covered, in the refrigerator for 2-3 days.